By Ms_Maquette
Crossdressing, both male to female (M2F) as well as female to male (F2M), is a huge part of the fetish scene. Torture Garden (TG) has always been a welcome space for a crossdresser's first venture out of the closet, and into the wider world. Despite the welcoming nature of TG, for the first time crossdresser attending TG can be a daunting prospect, as there is the double challenge of both cross dressing to a decent standard as well as the stress of passing muster in regards to the fetish dress standards of the club. This short nine step guide is intended to remove some of the fear associated with this process and help the novice cross dresser successfully add their own unique diversity to the TG crowd.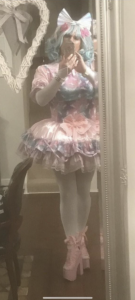 Step 1: see TG as a safer space than others
Crossdressers by their nature tend to be more vulnerable to neurosis – "do I pass?" "Does my makeup look rubbish?" "Do I just look like a pantomime dame?!" These are all questions that I am sure have haunted the minds of most cross dressers at one time or another. What I would say is that these neurosis matter far less in TG than in other venues that involve cross-dressing. Smudged makeup and outlandish outfits are all part of the fun, so even a total outfit malfunction/ breakdown will not be met with ridicule within TG. For me this is a big difference from TG and other venues where I feel far more conscious about the standard to which I am dressed – as such for me at least, TG is a safer space for a cross dressers first trip out than other queer spaces. 
So, first of all put all this neurosis out of your pretty little head, but….you still don't want to look like shit so keep reading! 
Step 2: Building an outfit that will get you through the door
One of the big challenges I faced in the run up to my first TG was a concern that my current wardrobe of cloths would not be "fetishy" enough to get into TG. Up until that point – as a life long cross dresser – I had spent years developing a cross-dressed persona that was reasonably passable (think slightly sexy secretary type look). The trouble with this look is that I just looked like a moderately passable trans person and with the changing world we live in I would have had been able to get onto the Tube, spend the day in the office and all in all NOT turn heads. This is nor really the spirit of TG so it was with that I went back to the drawing board…..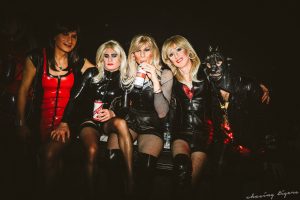 Step 3: Choose dominant or submissive as a target look?
Fetish dressing can often be broken down in either dominant or submissive looks, and this trend continues directly into the cross dressing subsection of the fashion. For a dominant look think the classic vampy dominatrix style look with pvc boots/ heals, corsets and gothic makeup being common points of reference for this style. In contrast the submissive crossdressing look is all about classic little-bo-peep or French maid looks with floating skirts and softer makeup. 
In my view it's far easier to successfully execute a submissive crossdressing look than a dominant one. This is due to the dominant look being extremely dependent upon crafting a certain body shape and it's use of expensive components such as leather and latex that leave little if any room for compromise – have a Google of the drag queen Violet Chachki for the definitive guide on executing a stunning dominant look for a crossdresser. 
But let's take a step back from the what you look like on the outside…any successful crossdressing look starts with foundation garments that turn a boy silhouette into something that looks a little closer to a girl. Unless you are very lucky or going for an androgynous look that combines boy and girl bits, you will need to start with foundations. For me the two essential bits of these starting points are 1. A corset, and 2. False boobs. Together they create the basic building blocks of the change you are seeking to create. So let's get to it!
– Corset – you need a steel boned under bust corset as a basic starting point. The good thing about this is that you only require one measurement, your waste, to order this item to get started. Budget comes into play here, but inexpensive corsets from various marketplace sites are readily available if you shop about. 
-Boobs – size and quality are the two main factors hear. Mastectomy breast forms are worth the investment, my own are 15 years old and are still going strong however, cheep version are available to get you started. More importantly is size. What works for you is subjective and dressing agencies (professional venues that cater for M2F cross dressing) are great places to try on a range or sizes and find out what works for you. Being 6.1 and 16 stone as a guy, I tend to go large when it comes to boobs as what works for me is creating a female silhouette that totally buries my male form – as such it needs to be big but everyone is different. 
With these three basic building blocks in place you are ready to tackle the next big step for the aspirant crossdresser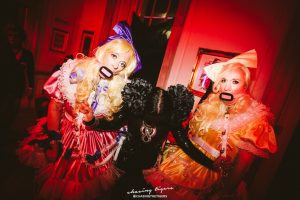 Step 4: …. what is your size hun?….
…is a dreaded question however, it is one that you need to provide a definitive answer for and this is where the world of men's and women's fashion really divides. Gone are the easy days of "small, medium, large" and welcome to the world of "empire waste, full bust and shoulder to shoulder" measurements! I found getting these measurements on my own was impossible, as you need an extra person to measure you, as you stand still to be measured. I also found (often to my cost) that just guessing the measurement was a fast way to build up a collection of cloths that didn't fit. In the end I booked a session with a dressing service and just got measured once and for all – once you have your corset and boobs I would strongly recommend that you spend and afternoon finding out what sizes you are in both in terms of garment size and measurements!
Suggested list of measurement (wearing your corset and breast form!)
1. Full bust:
2. Empire waist/underbust: (Google it)
3. Waist:
4. Hip:
5. Shoulder to shoulder:
6. Shoulder to empire:
7. Shoulder to waist:
8. Waist to hip:
9. Waist to knee:
10. Waist to floor:
11. Empire waist to floor:
12. Bicep:
13. Shoulder to wrist:
14. Height:
18. Neck:  
19. Shoulder to floor:
Once you have these measurements in hand, we'll be getting to the fun part next week – shopping!
Part 2 covers clothes shopping, wigs, make-up and handy dos and don'ts! You can read it here
Ms_Maquette is a Torture Garden regular and fashionista on UK fetish scene. A life long crossdresser Ms_Maquette draws her inspiration from sissy, Japanese Lolita and drag fashion to create looks that she hopes shock and amaze. When not pretending to be a glamorous starlet Ms_Maquette inhabits a typical high power boy role in the City that she uses to fund her ever expanding wardrobe. Her Fetlife profile can be found at the below address and she welcomes all friendly correspondence. 
https://fetlife.com/users/1406743