1. Please introduce yourself! Who are you and what are you known for?
I'm Amy, I use they/them pronouns.
I run Aimless Gallery, a brand known for non traditional, political, gender euphoria giving latex looks. Apart from latex I think I'm known for being honest, funny & people drinking my piss.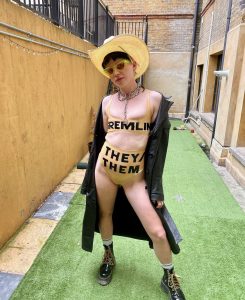 2. What inspired you to start making latex clothing?
As lockdown eased in the summer of 2020 I began going to some of the few kink events that were opening up again, and when I was looking for pieces to create my outfits with I really loved latex, it's such an extreme fabric in so many ways. I just couldn't find anything that really suited my style so I started making things, and then friends started asking me to make them things, and then Aimless Gallery sort of just happened.
3. Aimless Gallery is a not for profit company – could you tell us a bit of the ethos behind this and what made you choose to set it up like this?
In 2020 I was feeling quite hopeless like a lot of people were, I was earning enough with my other job to support myself and I just felt like there was no good happening in the world in those moments. More and more people relying on food banks, the government making people and small businesses pay for covid by not setting up restrictions…the world just felt to me like very capitalistically driven, even more so than usual. No-one (the gov) seemed to care about human lives at that point and I was just so tired of seeing this very blatant money grab when people were dying because restrictions hadn't been put in place. I decided I wanted to start putting my time where my mouth was, and since I was lucky enough to be in a comfortable financial position I wanted to use my spare time to create something that combined my love of expressing myself through fashion while helping other people. This belief that we should all in society help each other in the ways we are able to, and life isn't just about earning more money so I can buy more things, its about people and lives and helping your fellow person feel safe, valued, and themselves.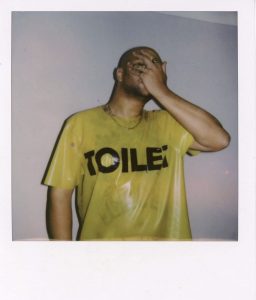 4. All of Aimless Gallery's profits are donated to Mermaids Charity, who do great work supporting trans youth! Why did you choose this charity in particular/cause in particular?
I myself have always struggled with my identity and felt for a very long time I was always being put into boxes in which others wanted me to fit. And so when I found out about Mermaids, the trans youth charity, I decided that seemed a good personal fit for the Aimless brand to support alongside what I believe in.
5. A lot of your designs are bold and colourful – definitely a bit different to more traditional latex clothing! Where does the inspiration come from for your designs?
My designs are generally inspired by other queers, sex workers, chats with my friends, memes, the idea that fetish doesn't have to be so serious and black and that it can be silly and fun. I'd say the collection's main inspo for Torture Garden is definitely inspired by the fact I think fashion is a political statement. And honestly just things I would want to wear.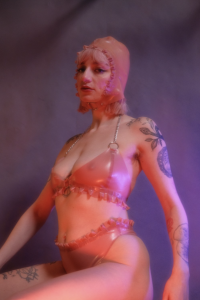 6. What about your work brings you the greatest joy?
I really really love making things. And seeing people wear things that they feel super good in gives me a lot of joy.
7. If you could go back and give yourself one piece of advice, what would it be?
In life in general… Probably don't stay in relationships with people who treat you like shit, love is abundant and we all deserve a lot of it. And make sure your partners get regular sti tests.
In my latex life… To not put so much pressure on myself – no-one is going to die because their latex thong is a few days late.
8. What would you like your gravestone to say?
Live Laugh Love Latex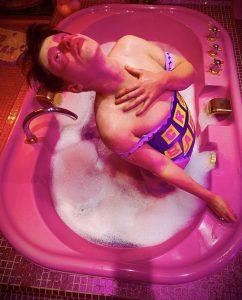 9. What is the biggest creative risk that you have taken?
I think this collection for Torture Garden is. I feel like anything political is divisive but hopefully this collection helps people feel collectivised and have belief in the power of movements.
10. if money was no object, what would you do?
I'd probably run a dog sanctuary somewhere warm and have a personal chef.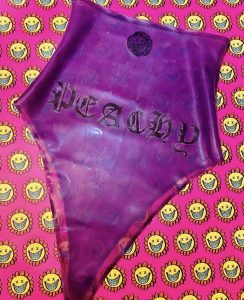 Aimless Gallery's will be presenting their "Cowboys Against Capitalism" show at the TG May Ball on 21/5/22. You can buy tickets here
You can check out Amy's designs at https://www.aimlessgallery.com/, and follow Aimless Gallery on Instagram
You can find out more about the important work Mermaid's Charity do, and donate at https://mermaidsuk.org.uk/