by Charlotte TG
If you'd asked me this time last year what I expected to be doing this week…
…I'd have predicted being on the verge of a breakdown preparing for a full weekender of parties, an exhibition launch with accompanying coffee table book, and a non-stop schedule over the next few months taking this on tour to our franchises around the world. Because, I know we look so young and it's almost impossible to believe, but this week would have been when we celebrated 30 years of Torture Garden.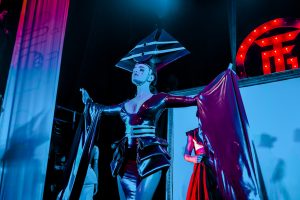 You read that right, 30 years!!!
 It's 30 years since Allen and David started TG to create a place they wanted to go to themselves. Allen coming from a club promoter and DJ background, David being a conceptual art and film graduate already going to fetish parties. They weren't satisfied with the existing nights on offer and wanted a party full of energy, combining diverse music policies with experimental and extreme fashion, performances and visuals, and this is still very much the ethos that the club is run on today 
Fun fact, the actual 30th anniversary of the first club night was last October, the date got moved many years ago to fit better with the wider fetish party calendar so April has been our "official birthday" for as long as we can remember. 
I joined TG myself around 20 years ago, originally as the door bitch, then the office bitch, going on to become the boss bitch. A progression of bitchin' that I've loved (nearly, come on, no job is perfect) every minute of. Yasmin TG became part of the team in 2018 and has looked after the office (and Allen and I) plus been the face that greets you (or sends you home) at the door of the club ever since. I'm not sure how to begin to sum up 30 years of TG, but here are a few memories for now.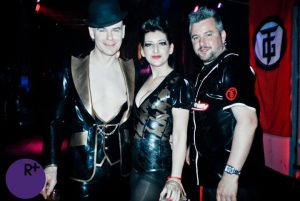 With the club being monthly for so many years, we have literally put-on hundreds of performances!
Did you know we showed the first public body suspension in the UK, and have continued to work with incredible body artists over the years, including Ron Athey, Franko B, Allen Faulkner and Fakir Musafar or that Dita Von Teese's first UK performance was at Torture Garden? 
We've seen boundary pushing fashion and showcased the best of this on our stages from the beginning, we'll have a gallery post about this soon as it wouldn't do the designers justice not to include photos of their work!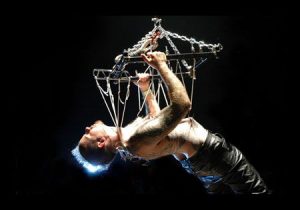 We've called a lot of spaces Home…
…many regular TGers have their own opinion on which was best, and Mass, the church in Brixton with a nightclub at the top of what felt like a million stairs was a firm favourite. 
I've got a lot of anecdotes from there, but a few that come to mind include our rocky relationship with the church beneath the club (unsurprisingly having a fetish club upstairs wasn't something that they were happy with)… We had some interesting correspondence from them over the years, including the complaint that a man wearing what "appeared to be angel wings" removing "torture equipment" as churchgoers arrived on Sunday morning, or the time that a "giant" dildo was found in the crypt.  
Our Animal Love Valentines Ball was a favourite night for all of us, and David TG spent weeks on Furry (people interested in animal characters with human personalities) forums, re-assuring a group with a furry fetish that they would be safe at TG and no one would ridicule them… we ended up with a huge group, they all had a great night in the end and couldn't believe how many scantily clad clubbers were in the mood for some frottage as the night went on, a couple of hem becoming regulars at the club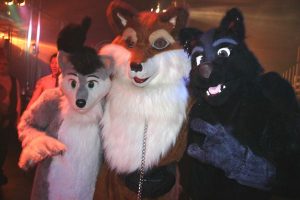 The night that we had a War theme, the club across the road from us, The Fridge, got raided and a dozen police vans pulled up outside. Allen TG came flying out of TG to see what was going on, having forgotten that he was wearing a full riot gear outfit hired from a film company and I had to run after him to tell him to get back inside the club before he got caught up in Police duties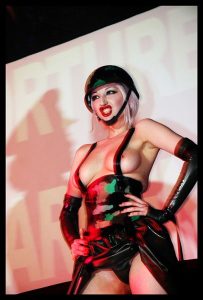 Ministry of Sound and Brixton Academy were huge achievements for what started out as a small underground night.
 Electrowerkz has been a special place for TG for more years than we can count 
 Se0ne in London Bridge was probably the most creatively exciting space for us, with so many rooms to theme. We had a wrestling ring stage at one, a wooded "dogging" room, (including cars, which had to be driven around he block for hours until the petrol tank was empty), we had artists like Suka Off, Lukas Zpira, and of course Fakir Musafar perform, a cabaret stage dedicated to the best in burlesque and a neon filled Eclectic Ballroom.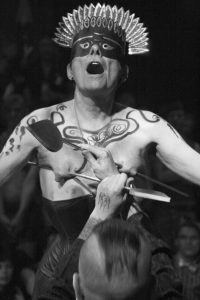 We got contacted by the police after our first night there as an internet forum had started a rumour that someone had fucked a pig on stage (no, David Cameron wasn't in attendance), and Allen TG had to go and speak with them to clarify that no, this hadn't happened  
We've been lucky and had a good relationship with police and councils over the years, they were a little nervous when we first started up, though once the police realised how popular men and women in uniform are with our customers, they were quite happy to regularly come and inspect our nights… I doubt they got the same positive response at any other kind of club night!! 
 The Coronet offered us a vast main room with the kind of stage we'd only dreamed of, shows including Empress Stah's aerial performance with laser butt plug, Skinny Red Head's rope bondage from a great height, accompanied by Bliss of Pain's body suspension, Brooke Candy's (much later than scheduled) gig, Dayne Henderson hooded fashion show…. 
A lot of our favourite images from the club come from there, particularly once we had created our signature giant stage set for the last year that we could hold our biggest parties of the year there. As the club grew, so did our production levels, with the scale of our décor and technical production growing year on year…it grew so big that we started a production company and continue to work with other brands to bring the skills we've learnt to their events 
Another fun "rumour" was at another night when security went on full alert as a snake had escaped in the ballroom…we came rushing to the room only to find it was a plastic snake, part of the themed décor ( I told you our décor skills were good!)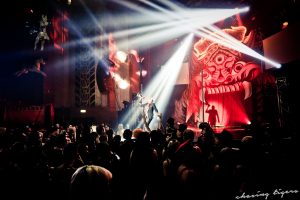 But London moves fast…
…and as venues get eaten up by development plans, we re-invent ourselves in new spaces, evolving into our next incarnation, because what makes the club what it is, has always been the people that come to the parties. The strict fetish fantasy dresscode policy means that everyone leaves behind their day time persona when they come out to play at Torture Garden, we are lucky to still have some attendees that came to the first ever TG at Opera on the Green in Shepherds Bush, and to welcome new people to each event, stepping into our world for the first time and bringing their own energy to TG. 
We've been lucky enough to sell out in advance for a lot of parties, one day I'll do a full post of "the best blags people have made to get try and get tickets" but a couple that come to mind are the guy who claimed to be from a "very famous" rock band that happened to be in town that would require VIP tickets (we don't do VIP anyway, you're all VIPS to us), it would be rude of me to name them, but let's say they are called Jeff Shephard, and I had to explain that even for a band of that great standing, we couldn't magic up some tickets… or the person claiming to represent Madonna who said she wanted to come with entourage but would wear and mask and wouldn't speak so we wouldn't be able to confirm it was her, I just said " you're not calling for Madonna are you? "and they hung up… or my absolute favourite, quite soon after I started working in the office at TG a man rang up desperate for tickets, and when I said it was sold out he told me not to worry, he sometimes sleeps with the girl that organises TG…well that would be me, and it's safe to say we didn't know each other  
I should also make a quick shout out to all the people who have lost handcuff keys over the years and had to go to the fire station to get released, bless our wonderful fire services and all the good work that they do!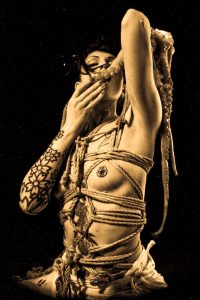 We're not for everyone,
…and we've never wanted to be, we've spent 30 years being a home for people that aren't looking for normal, that want a place to be someone that the rest of the world isn't ready for, to push their own limits and be around like-minded people. I couldn't begin to list the people that have been part of the club over the years, many of whom are still involved, some have moved on in life and some have passed away, we've seen a lot of love and sadly loss over the years and all with a community that we are so proud to call family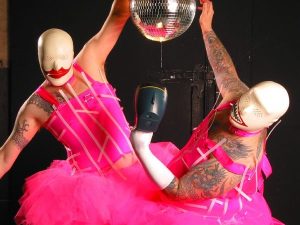 And with all the highs and the occasional lows, the past year has somehow managed to be the most challenging yet, as it has been for so many people. Fingers crossed we will be easing back into something like our old lives over the next few months, we've got plenty of plans that we cant wait to bring to you. After a year of resting and re-setting, we are definitely ready to party. We'll look at re-scheduling the plans we had for this year, maybe 31 years or 32 is more TG appropriate to make a big deal out of, after all, we've never been conventional, so why start now?? 
We will be posting classic images from the club on our Insta and FB over the next couple of weeks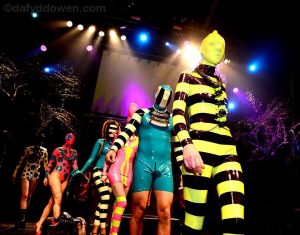 About the Author
Charlotte TG started working at Torture Garden as the "Door Bitch" over 18 years ago! She has been the General Manager for the company for the past 15 years, and recently became a director of the company. She's got more stories that she can never tell to anyone than any human should have filed away in their memories, and more latex than any one bedroom flat in London can file away in its cupboards.
You can follow her on Instagram at @charlotteheti