by Divine Theratrix
Moving through the dancefloor, music pumping through your body, a smile on your face… you feel alive with possibilities. You are in a sea of colourful creatures, unified by the spectacle they have come together to create. 
Will you connect to someone new tonight? 
It is an exciting prospect. 
Do not get swept away by that excitement. You must learn to navigate those currents responsibly. 
Knowing instinctively where to look; when to look away; when to stay; and when to move away… this is the skillset of the considerate creature. 
Traverse the landscape of this party with all your senses switched on to traffic light mode.
Learn to recognise where you sense a green light telling you that your presence is welcome, where another creature has signalled a "yes" to your actions. 
Learn to recognise where you sense an amber light telling you that you should pause and reassess the course you had set on your compass.
Most importantly, learn to recognise where you sense a red light telling you to stop and leave, that your presence is not welcome, where another creature has signalled a "no" to your actions. 
It is in the eyes. It is in the mouth. It is in the posture. All the signals are there for you to read. Be a kind creature and notice them. 
Has the creature you are interested in returned your eye contact or turned away from you? 
Until you have an obvious green light, you would do well to maintain a respectful distance from an unfamiliar creature; you would not want to startle them or cause them to bare their teeth at you!
Torture Garden is a beautiful sea of possibilities.
Creatures cavort together in safety. 
Connections made in peace and harmony.
Green, amber, red – that is all it takes to be… a considerate creature in that sea!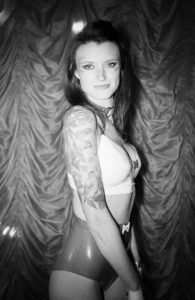 Divine Theratrix is a conscious kink and sex educator who has been attending Torture Garden for many years. She believes that the human body is art, and loves to teach people how to make art, with their art.