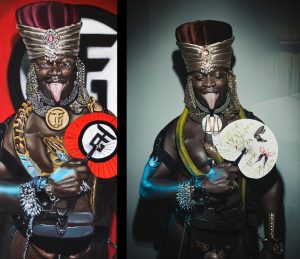 Torture Garden 50cm x 70cm oils & goldleaf on canvas.

The world's leading Fetish Club.

A large part of my life from 2007-17.

It was a revelation to me! I'd always hated night clubs, drunken macho meat markets with a lack of respect bordering on the illegal. I thought it must me and my severe social anxiety, everyone else seemed to love them!?

Then at 40 years old I discovered TG. The 'vanilla' person has a distorted view of what these places are like and why should they be able to understand what they don't need or require?

The people I met were respectful intelligent and above all, sexy! All on their own little quests to find what they needed, just like me… the entire lack of an alcoholic culture was also like a palpable relief. I even liked the music.

There is an understanding and etiquette adhered to in these places that the 'tourists' will never get.

This is John, one of the many great people I met along the Fetish ten year journey. TG a place where you can be accepted for who you are, or indeed, want to be…
I've come to fine art after a career in marketing & advertising in the corporate world. It feels like I should've been doing this right from the start. The whole process of thinking through a painting from concept to finish feels completely natural to me and, dare I say it, easy.
As an artist I've always felt an outsider, out of place, unable to fit into societal norms. I tried for years to deny my own sexuality and to be like other people thought I should be.
Inevitably eventually this led to a moment of madness at forty years old, leaving my childhood sweetheart wife and two sons in their teens.
Moving to Brighton to open a hire dungeon and explore my repressed sexuality and BDSM. Starting a relationship with an ex-Buddhist Nun, who turned my life upside-down! Delving into the darker side of life, finding the real me. After ten years of exploring the new me, finally feeling like I fitted into something… I started to paint, it felt like an epiphany and the response has been amazing. I've sold paintings and prints around the world, into private collections and worked through commissions from all kinds of sources. Winning first prize at EAL19 OXO Wharf London.
Now I'm trying to paint things that elicit some kind of emotion within myself and perchance they touch something in you too… that taboo, to strive to make it a little more understood, maybe even acceptable…"
Thank you for taking some time to look, Guy.