by Madame Li Ying
What is a Medical Fetish:
Medical fetishism refers to a number of sexual fetishes involving objects, practices, environments and situations of a medical or clinical nature. It can be extreme – such as needle play, urethral play (sounds, catheterisation, bladder irrigation), breath play (strangulation, suffocation, and smothering), intox (poppers, gas), electro stimulation, anal play (examination, stretching, prostate massage); to something simple such as dressing up as a nurse/doctor to perform physical examinations.
Needle Play
Needle play is the practice of inserting needles under the skin of the submissive and is considered a form of "Edge Play". It can produce an intense natural endorphin high which can last for hours. Needle play involves inserting a hypodermic needle into the skin through the at least the top two layers of the skin, epidermis and dermis.
First of all, it is important to know about what skin does:
The skin is the largest organ of the human body, it serves as a barrier to protect the body from the external environment, regulating body temperature, keeping the moisture, excreting waste via sweat and most importantly transmitting sensations to the brain through the nervous system. Skin also hosts a variety of microorganisms.
Skin consists of three major layers: 
Epidermis – a comparatively thin layer of skin that lack of blood vessels.
Dermis – supplies blood to the epidermis
Hypodermis or subcutaneous level – consists of fat cells, blood vessels and nerve endings.
Because the skin both hosts and protects us from so many potentially harmful microorganisms, a break in the skin can provide an opportunity for those organisms to enter the body. Before skin is pierced with a hypodermic needle, it needs to be treated with an antiseptic to lessen the risk of infection.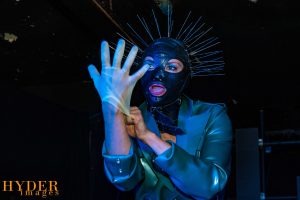 Preparation
Clean your hands! Please make sure your hands are clean and don't forget wearing gloves. You can purchase latex or nitrite gloves from eBay or Amazon. If your play partner is allergic to latex, go for Nitrile. 
Skin Preparation
The two most common antiseptics for play piecing are providone-iodine and isopropyl (rubbing) alcohol.
Alcohol swabs can dry the skin out, and should not be using on mucus membranes. They also sting if used on broken skin!

Alcohol has a good instantaneous effect on microbes, but it is not lasting. Once the skin is pierced, the wound needs to be protected until it can heal well enough to reseal itself.

Providone-iodine (Betadine ©) is another commonly used skin antiseptic in needle play, it does not dry out the skin, and is non irritating to mucus membranes.
Anaphylactic shock from iodine/chlorhexidine:
With Providone-iodine, you need to check with your play partners whether they are allergic to chlorhexidine before you use it. These reactions are very rare, and these same skin prep agents are still used in hospitals, they just ask about allergies first. If in doubt you can do a patch test when they arrive, and leave it while they are getting ready. If there's no itching or irritation then go ahead with the skin prep.
Regardless of which antiseptic you choose, do not go over the same area twice with the same antiseptic pad to avoid recontamination. Wipe it in the spiral starting from the centre to the outer area – you can always throw away the used antiseptic pad half way through, and start a new one if needed.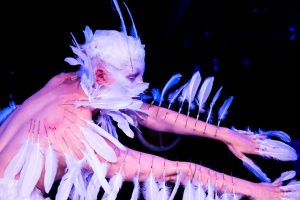 Type of needles
For novices 21 – 23G needles are a good starting point, and you'll also need a sharps bin for used needles.


Dos and Don'ts
The most common areas for piercing play are surface of the skin, nipples, genitals. 
It can help to imagine the skin layers like the layers of a tiramisu. When you stick a needle into the skin you focus on 15 degree angle into the dermis, and push the needle out from the other side. Do not stick the needle 90 degree because you don't want to hit the muscle by mistake.
If you're concerned about piercing yourself by accident as you push the needles through your play partner's skin, you can use a cork to "catch" the needles as they pass through the skin. If at any point you puncture your gloves, don't panic. Remove your gloves, clean/disinfect your hands with alcohol swap and put on a fresh pair of gloves. 
You should also put on new gloves before removing play piercing needles. Always dispose of play piercing needles in a proper sharps bin as you remove them.
A note from TG – This article was written by a professional! If you're trying needle play for the first time, be sure to be honest about this, and discuss any limits and boundaries with your partner before engaging in play! Take it slowly, be aware of and consider the risks before engaging in play! Anyone who engages in this form of play does so at their own risk, and we recommend you only do so with someone experienced!
Madame Li Ying is a highly skilled UK based Dominatrix that specialises in realistic medical scenarios, and cock and ball torture. She's been a professional Dominatrix since 2003, and caters for beginners right through to hardcore experienced perverts! You can find her at https://madame-li-ying.com/ and on Twitter