My name is Paul Faust and alongside my partner in crime, Isabel Grigor we are the founders of Faustian Society who specialize in bizarre and intriguing lifestyle events and happenings. We produced TGLA1 back in the halcyon days of 2019.
Our background is in high end exclusive events globally from the Cannes Film Festival to small underground London and LA gigs, but in our mind, L.A. had become complacent and dare we say it a little dull, and Isabel and I always wondered why Torture Garden, the greatest club on Earth, already holding a myriad of the most incredible dark cabaret and Fetish events across Europe and Asia was no longer infecting the City of Angels with its dark, sensual decadence.
We who had experienced these best nights of our lives during the naughty nineties and ought's burned to spread the news and also to re-experience them, set for this time, a cross generational cross gender and identity maelstrom and we at the TGLA team wanted to create this new experience.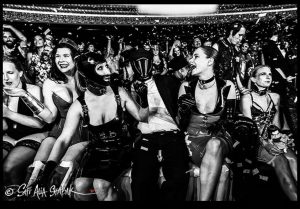 We reached out to TGHQ in London – working with them, with the help of our dear colleague, Infamous Boom Boom we began to put together a beautiful Body Art and Fetish Show set in Los Angeles. First, we picked the legendary Hollywood haunt of the Globe Theatre, chocked full of Hollywood ghosts (including Marilyn Monroe) old style glamour and sensuous decadence as our venue and it stood us in good stead with its amazing floor space and incredible stage, light show and stupendous sound. Then we set about putting together the greatest line up of international fetish and cabaret performers from around the world, flying them in from London, Paris, New York, etc., and putting together the music and performers that we know would blow off the Globe's roof. We also started putting together the dungeon, an adult space in the beautiful basement of the Globe where the darkest dreams and fantasies of our attendees came into shape, hosted by the incredible Madame Mistress Cyan, the mistress of Los Angeles. All of the staff here were incredible and made TGLA1 a controversial and decadent event.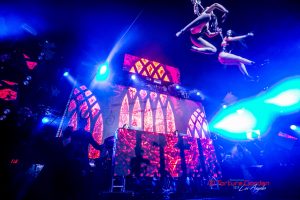 We were also able to secure legends Dita Von Teese and Amanda Lepore as our hosts. Amanda also did a spectacular impromptu performance, which caused theatre management to try to shut down the show (this happened concurrently throughout the night)!! At no time did we stop pushing the envelope as did our crowd, who came, at our behest, to dress up wilder than they have ever done before and be more decadent, to really live out their fantasies in the heart of Tinsel town.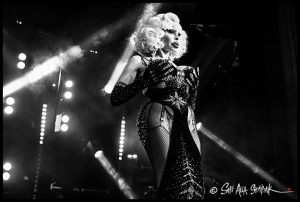 The greatest dark fetish cabaret and body art show included such international performers as Katrina Lilwall, Maegan Machine, Luke Harris, Infamous Boom Boom, Lena Fumi, Brynn Route, Mako, Ridge Gallagher, Embrace Chaos, our beautiful MC Abhora, David Wood from TG London who did an incredible finale DJ set, an Exclusive Torture Garden Latex fashion show from London, brilliant Vex Latex see at the MET Gala NY, Blacklickorish Latex, and Venus Prototype. 
At TGLA1 we were fortunate to put together top International DJ's from London L.A. including Betty Blackheart. Matthew Pernicano, Samantha Togni from London, Mynxie from London!!!
We also had exclusive giveaways – over 1500 gift bags in total, from our incredible sponsors such as Uberlube and Mister Hankey's toys, so everyone went home happy and satiated only to party on further, if they didn't end up at our after party in Downtown L.A.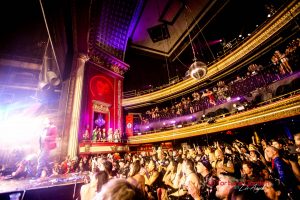 Our first TGLA was huge success for us, with over 2000 people attending, even more being turned away at the door, and guests & performers flying from all over the world to attend.
Our plans for the second installment were ever bigger, speaking to more performers and even discussing an exclusive performance by a huge international rock band to begin their worldwide tour at the event. However, a pesky virus from China had other plans and kyboshed everything we were trying to do, and we had to abandon plans for TGLA2 in 2020 now being re-scheduled for 2021 if permitted by the Government and the Virus.
We want to come back stronger, greater and crazier and more decadent than ever, still talking and arranging the greatest Fetish performers in the world to perform on our hallowed stage as well as premiering the TGLATV live streaming from the Globe event. This will enable anyone from around the world who can't attend to experience the complete smorgasbord of delights of TGLA giving a real time interactive experience. 
Torture Garden Los Angeles 2019 from Faustian Society / TGLA on Vimeo.
You can follow TGLA on Facebook, Instagram & Twitter; or find out more info at https://www.faustiansociety.com/