by eyemblacksheep
One thing to know about engaging in any form of kink is that it is risky.
To some, perhaps the element of risk is a draw.  But, for everyone, there is often a line between mitigating risks and reckless play or behaviour.
While sometimes there can be a temptation to rush in, safety should always be at the back of someone's mind.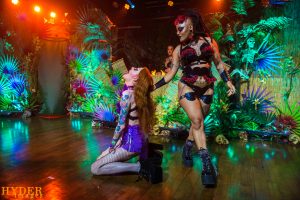 KINK PHILOSOPHIES
There are 3 common (and a fair few lesser common) kink philosophies you are likely to hear talked about.
SSC, RACK and PRICK are the ones you are likely to hear about the most, that I will take you through today.
SSC
SSC (Safe, Sane, Consensual) is possibly one of the most talked about.
Before engaging in any play or arrangement, all parties should ask themselves.
"Is this safe?", "Is this sane?", "Does everyone involved freely consent to what is likely to happen?"
It's a very common philosophy, but is sometimes a little vague.
One person's definition of "safe" or "sane" might differ to another.
Almost every kink activity carries some risk, so what makes it 'safe' ?
RACK
RACK (Risk Aware Consensual Kink) is being increasingly more used.
In this philosophy you are aware of the risks.  "Aware" should include being able to both name the risks and having steps to mitigate these.
PRICK
PRICK (Personal Responsibility Informed Consensual Kink)
This is being used as almost a 'next level' to risk.  That in engaging in play you take responsibility for the kink, and understand what is going to happen, risks and all.
But this should also include making sure the other person is also fully informed.
There is no right or wrong to which philosophy is right for you. They all follow a basis that you understand there are risks involved, what the risks are and have a plan to mitigate.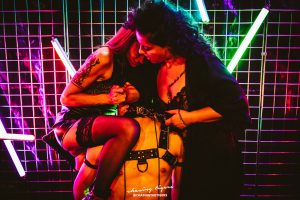 MITIGATION
The steps to mitigate are non-exhaustive and depend on the play involved.
Some basic steps could include (but are not limited to):
– Knowing where to find the First Aid Kit and/or a First Aider
– Having safety scissors available for rope work or other bondage
– Clubs appoint dungeon monitors or other staff to monitor and help others play safely and responsibly
– Use of a Safeword
– Use of a Traffic Light System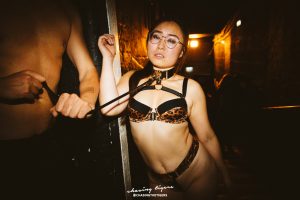 WHAT IS A SAFEWORD?
A safeword is a word or phrase that, when uttered, tells the Dominant to pause or stop the scene.
"Stop" or "No" are actually valid safewords, especially if you are new to playing together, but there is often a lot of vagueness.
It gets confusing that we're in a space where some people saying "No" or "Stop" actually means "Please yes" or "I don't really want to, but will for you" – so it's important to avoid vagueness.
A good safeword avoids this. Someone shouting "Strawberries" in the middle of a dungeon probably doesn't mean they're thinking about Strawberries.
WHAT MAKES A GOOD SAFEWORD?
A good safeword needs to be easy to remember, easy to say, and avoid vagueness. A common joke is to have "harder" as the safeword, but you can see why this is either confusing, or open to abuse.
If you forget, or don't have a safeword, "Red" and "Mercy" are often acknowledged as global safewords.
Another advantage of safewords is that they alert dungeon monitors also, so if the Dominant doesn't hear, or ignores, the safeword – there is someone else can check everything is OK.
NON-VERBAL SAFEWORDS
What if the sub is gagged? What if it's in a club with a lot of background chatter or loud music?
What if the Dominant cannot hear the safeword?
In this case, Non-Verbal Safewords can be used.   This can involve hand signals, or, perhaps the sub being given something heavy to drop.
A set of keys often comes up as it will make a clatter and be noticeable when dropped to the floor, but of course be careful the ring doesn't get caught on someone's fingers!
WHAT ABOUT DOMINANTS, CAN THEY HAVE SAFEWORDS?
Yes. But, they are usually in a position where they can stop the scene at any time.
NON-USE OF SAFEWORD
One thing Dominants should consider is sometimes submissives do not use their safeword even when they should.
This could be through fear of letting the Dominant down, to being overwhelmed.
If the Dominant thinks it's enough, it's enough. If the submissive is disappointed you can always build on the play in the future.  You can't undo things if they go too far.
MY DOM/SUB SAYS THEY DO NOT WANT SAFEWORDS USED
Some people prefer to play without safewords, but it is really important that you have two-way trust before engaging in this play.
If you do not feel they are taking your, or their, safety seriously then you do not engage in play with each other at this point.  You can always change your mind in the future.
THE TRAFFIC LIGHT SYSTEM
The traffic light system is a simple system that can be proactive or reactive.
As mentioned above, 'Red' is generally recognised as a safeword.
A sub shouting red at any time means to stop the play/scene.
However, it might not be that they want the whole scene to stop, or want to interrupt the Dominants flow.
Calling 'Amber' is a signal they wish for the Dominant to perhaps change toy, slow momentum, not go so hard, or otherwise ease up.
Of course it makes little sense to call 'Green' there is another way the system is often used.
Instead of waiting for the sub to call a colour, the Dominant can periodically ask how they feel.  This gives the sub an option to say 'Red' if it was a bit much but they didn't want to otherwise stop the scene (see above for why a sub might not safeword) to say 'Amber' if they're about at their limit or need things down a notch, or 'Green' if it's fine for the Dominant to continue what they're doing.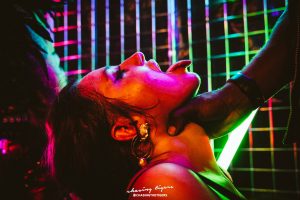 WHAT IF THE SUB CAN TAKE MORE?
I guess a nice exception is if the Dominant is currently playing below the levels a sub enjoys.
I think it's always OK to ask 'Harder' at any time.  Or, I guess for the brats, "Is that all you've got?" – though, make sure the Dominant is into bratting before giving such cheek! Sometimes the most fitting punishment isn't to hit harder, but to end the scene!
NON EXHAUSTIVE
None of the above is exhaustive and also, of course, even with the best planned playtimes things can go wrong.  Mitigating risks can go a long way to avoid more serious consequences.
Play is always more fun when it doesn't end up in A&E – so – enjoy.
eyemblacksheep is a blogger and fetish film producer – you can check his website here (www.eyemblacksheep.com) and follow on Twitter @eyemblacksheep