A guide to the top eleven fetish movies
By Dave Darcy Edmond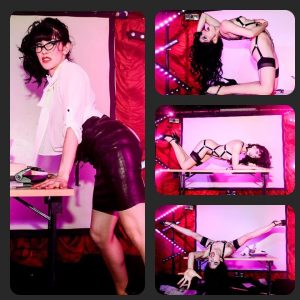 The following is subjective as per the views of the author – we'd love to hear if you have any films to add!
11 …….. The Story of O. 1975. The first of two movies from Just Jaeckin. Written by French author Anne Desclos under the better known pen name of Pauline Reage. A respectfully faithful film version of the book. It's a visually pleasing film and it deals well with aspects of sexuality, domination and submission. It was made in 1975 and probably some of the techniques and filming seem dated, as well as the costumes. I always considered it a bit of a "hippy" movie with too many soft focus shots, but it's definitely worth a viewing, especially with a partner or hot date up for a bit of post film role play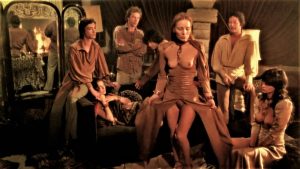 10 …… Mano Destra. 1986 movie shot in black and white. 50+ minutes long. Lesbian bondage, fetish iconography and moody music. Probably over arty and definitely too long. Notable for being probably the first of its type BUT ….. if you like this type of stuff I would recommend checking out the films of Maria Beatty – better, shorter, hotter.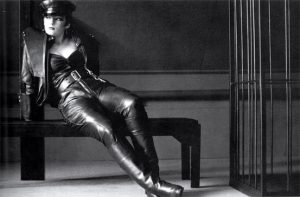 9 …….. Venus in Furs. Based on the book by Leopold von Sacher-Masoch. This particular story has been made into a movie no less than 5 times. I would probably recommend the 1969 version. Classic story of male submissive and female dominatrix containing dynamics of sexual power balances and addressing  central issues of who is actually in control within a bdsm relationship. The story was made famous via the Velvet Underground classic of the same name (Venus in Furs) that has been a staple at Fetish events since time began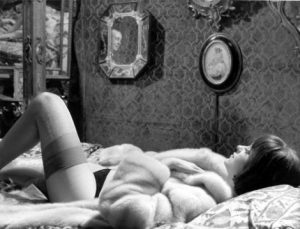 8 …….. Notorious Bettie Page. 2005. An American biographical movie that purports to tell the story of pin up model Bettie Page and her involvement with Irving and Paula Klaw (the photographers/publishers that made her (in)famous). It's an ok movie although its factual accuracies could perhaps be disputed : its always been pondered just how naïve Bettie and her cohorts actually were (or were'nt). The movie is at its best as a comment on American moral values and religious based hypocrisy and social control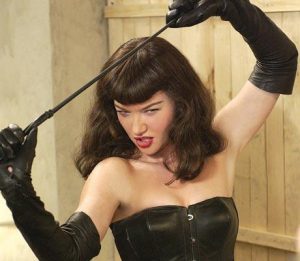 7 ……..   The Secretary. 2002. One of the most mainstream of fetish movies and with a suitable alluring promotional image. In essence it tells the story of a dominant male boss – James Spader  –  and his submissive secretary – Maggie Gyllenhaal. Some cool scenes of office based hanky panky, domination, submission, stockings, high heels etc. The film contains a major, and sadly predictable, cop out in that both lead characters are presented as dysfunctional, in particular the female submissive secretary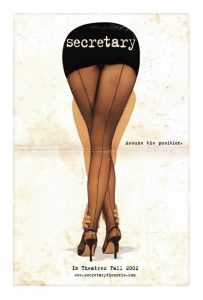 6 …….. Gwendoline. 1984. Based on the characters created by fetish artist John Willie the film was made by Just Jaeckin (of Emanuelle fame). I suppose it would have been impossible for the film characters and images to live up to the comic book originals. I always wanted to like this film but it really isn't very good. There are some great scenes with very elaborate machinery, aka dungeon furniture, and there was obviously a sizeable budget . Tawny Kitaen is ok in the main role but the plot is just kinda silly. Perfect as a late night movie with a few friends and some beers, and low expectations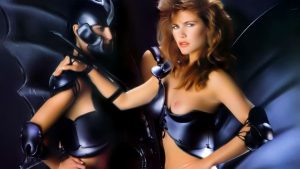 5 ……..  Fetishes.1996. Nick Broomfield documentary on the World's most elaborate themed BDSM/dungeon/ fantasy role play establishment, Located in New York City (i worked there for two years so I may be biased). Great documentary that tells the story from the inside. Interviews with mistresses, dominatrixes, sex workers; as well as clients of various ages, races and persuasions. There's footage of actual sessions and scenarios as well as a genuine attempt to understand BDSM and sexual fetishes from the perspectives of all involved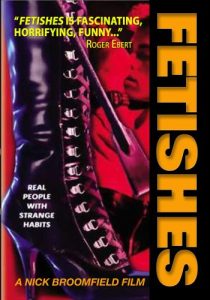 4 ……. Heartbreakers. 1984. Cool and little known 80's movie that starred Peter Coyote and Carol Wayne (in her last film performance before a mysterious death). Based loosely on the exploits of fetish artist Robert Blue. The plot is relatively lightweight and forgettable but it's a cool movie with accuracy, well reasoned viewpoints and great costumes and images. It manages to avoid the clichés of both Secretary and Notorious Bettie Page and the art house excesses of Mano Destra and Venus in Furs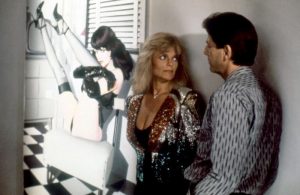 3 ……. Maitresse. 1976. French movie starring Bulle Ogier and Gerard Depardieu (who's in most French movies made since the mid 1970's and likes to pee in airplanes). Directed by Barbet Schroeder and with a neat poster by Allen Jones. For a mainstream movie the uncut version is extremely hardcore, containing scenes including whipping and a penis being nailed to a plank of wood. It was initially banned in the UK and didn't pass certification uncut until 2003. The story involves Depardieu as a burglar who becomes involved with a dominatrix when he breaks into her apartment/dungeon. Plotwise, and in most other ways, the movie stands the test of time admirably
2 ……..   Preaching to the Perverted.1997. Stuart Urban movie with a plot centred around the London Fetish scene and its parties, activities and characters. Shot in the UK and starring absolutely loads of familiar faces from the scene, many of whom are still around. Relatively accurate portrayal of things as we know them. The plot is a bit silly at times but I guess it needed to be to widen the films appeal. Kudos to Stuart Urban for actually using genuine fetish people and for mostly getting it right.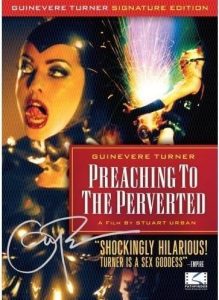 1 ……  Dressing for Pleasure. 1977. John Sampson. The best documentary on fetish themes ever made. Features amazing footage of pre 1980's (ie modern day) fetish enthusiasts and parties together with the Vivienne Westwood shop SEX – without which none of it would have happened and we would not be now reading this! Also features ground breaking innovator John Sutcliffe of Atomage. If you want to know how it all began and evolved then watch this documentary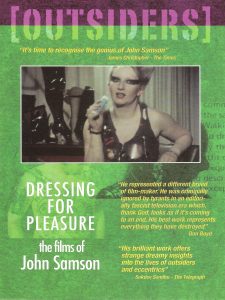 Honourable mentions go to the following
 The Night Porter
 Salon Kitty
 Cruising
 The Cook, The Thief, His Wife and Her Lover
 Nine and a Half Weeks
 The Damned (Visconti)
 Trans Europe Express
 The Girl With the Dragon Tattoo (original)
 Madchen in Uniform
 The Leatherboys
 Scorpio Rising
Personal mention to ……
Plan 9 From Outer Space ( Vampira)
The Avengers – Hellfire club Episode
 http://www.youtube.com/watch?v=8ZJv7DMz96A
Dave Darcy Edmond is a writer, editor at large for Skin Two magazine online, former designer and pro dom with lots of unhealthy interests. You can follow him on Instagram and Twitter at @davedarcyedmond