She wanted to go to the rope workshop since she discovered tormenting boys by tying them up, long before it ever had sexual connotations. I wanted to go because the world of kink and all it's delights were new to me and I was the proverbial kid in a candy store, unrelenting until I'd gorged on it all.
It was a date.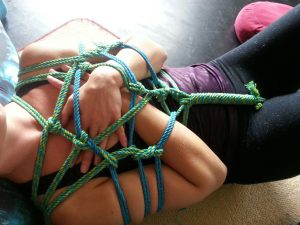 Avi Rope
Little did I know that my casual interest and "let's do that" response to anything vaguely in the arena of kink would lead to a whole different love affair. One with rope, tying, being tied and experiencing, perhaps for the first time, how I could use kink in ways that worked well for my body and it's particular foibles.
Ehlers Danlos Syndromes (EDS) are disorders that affect connective tissue. A genetic condition that manifests in different ways in different people; for me, it causes pain, joint laxity, issues with internal organs and, relevant here, often trouble just getting comfortable unless I can "wedge" myself in. Weighted blankets and a mass of sofa cushions are my friends!
It seems almost counter-intuitive that the same shibari practice that is known for a focus on avoiding dangerous nerve-damage would be a safe-place for someone who can't trust their body to even sit comfortably, but with excellent communication and riggers who were very determined to work with me and my body's needs, I discovered that in the cosy embrace of a restrictive tie, I could actually relax.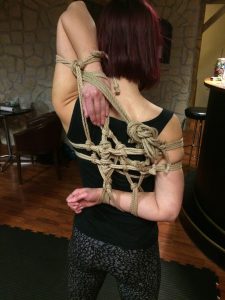 Appreciative of muscles that work to fatigue to ensure my faulty joints are protected, being tied up gave them a reprieve. The rest they deserve. The rest I deserve. The rest that can be instrumental in giving me the space to experience other sensations, with less mental attention being (often subconsciously) given to holding or moving my body. 
Sidebar shout out to Pilates, which has helped me tune into my body to begin with. Being able to communicate feedback on specific areas goes a long way towards staying safe within ties. I'm conscious of my limits, quick to communicate them and have the vocabulary too, from years of Pilates training. 
Attending the rope workshop became a regular event and gave me the chance to meet other like-minded humans, some of whom became good friends, occasional lovers and regular riggers. From the monthly meetings, I went onto regular holidays and master-classes in different countries in Europe. The rope world is huge and in the before-Corona times you could be at a different event each month. 
I was demo "bunny" for different styles of classes, each with a different focus or angle. I cared little for the technical side, although I exhibited as much patience as I could muster to avoid being a brat. Mostly, I relished how much I learnt about my body and it's capability; how to endure being hung from one ankle, how much I could fight back when wrapped tightly in a primal scene, unclear which restraint was rope and which was a human holding me. How intense a cattle-prod would be and how much easier it became when the rope holding me became a harness for a vibrator against my bucking pelvis. 
I experienced the phenomenon of "sub-space" for the first time during a rope suspension, a floaty cloud of cosy feeling from being pushed to extremes. I'd come down feeling like I'd had the most energetic and rewarding work-out, snuggly and blanket-wrapped…for at least five minutes until I bounced back, ready to go again.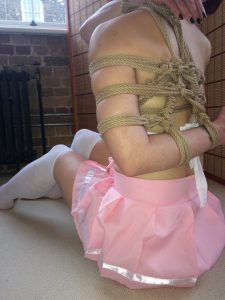 Most of all, I came to love my body all the more, for the things that made it different didn't seem to be a hindrance here, perhaps as expected, but instead gave me an appreciation on a whole other level. Getting tied up is fun, for me it's also a big relief from an otherwise potentially debilitating condition – and you know, hot too!
For more info on EDS visit:
https://www.ehlers-danlos.com/
For more info about rope events:
London – https://anatomiestudio.com
Midlands – https://studiokokoro.co.uk