One of the most frequent topics of enquiry we get on the TG HQ emails, is about the "strict fetish/fantasy only" dresscode. Sooooo….since I'm the c*** on the door who tells you "uhhh…not in THAT you aren't!", I thought I'd try answer your questions below!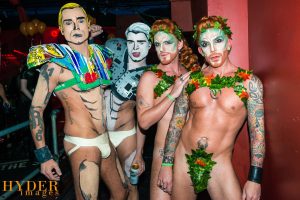 Why is the TG dresscode so strict? (i.e. "I can wear a suit to xyz club, why can't I wear it TG?" or "I've been on the fetish scene for 1000 years, I shouldn't have to dress up to prove I'm into fetish!") 
Part of the philosophy of the club, and something that sets us apart from other fetish clubs, is the super strict dresscode. We want to be somewhere you can come to express the most extreme version of yourself, that you can't express anywhere else! 
So whether your alter ego is head-to-toe latex clad goddess; you're an avid crossdresser that's ready to take that fabulous persona you've been working on at home out somewhere accepting; you're a club kid with an amazing look that just doesn't feel quite right for anywhere else; or you'd like to loudly and proudly declare your piss fetish to the world (see below)…we want to create an environment you feel proud to flaunt your look in.
Of course you don't have to love dressing up to be a true fetishist, but at the end of the day it's pretty simple. If you don't like dressing up, we aren't the right club for you!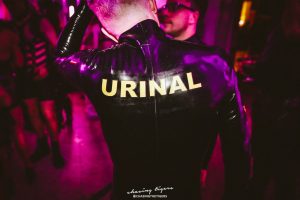 What's the minimum dresscode requirement for coming to the club? 
We hate it when you ask us this! Obviously we understand that as a newcomer, you might be nervous about going all out. Or maybe your partner's dragging you along, and you aren't as enthusiastic. Honestly though…more is more here, and it's only going to make you feel uncomfortable and underdressed if you don't put the effort in! If you're nervous, maybe think about taking an outfit you can add to (or strip off) as the night goes on!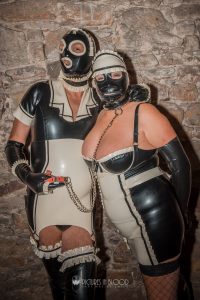 HELP!!! There's too many options! Where do I begin?
I am ALWAYS happy to discuss options with people who are enthusiastic and up for trying something new, but are struggling to know where to start. My best advice is to think about if there's a particular character, dynamic or fetish you're looking to explore at the club and go from there!

For example – is there a specific roleplay that excites you? A particular weird character that you like the idea of becoming for the night? Do you have an alter ego that has yet to be seen in public? 
Do you love the look of latex? Or the feel of fishnet? Are you submissive? Dominant? An exhibitionist? Pegging enthusiast? Adult baby? I'd also add in here that I recommend not getting too hung up on what you think might be "expected", this is your chance to really go all out and live your fantasy for the night!
If you're looking for inspiration, try the gallery page or Instagram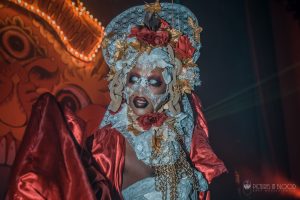 Yes YES YEEEEEEEEEESSSSSSSSSSS (things we love)
Well essentially, if you have a fetish AND you love dressing up, we'll probably love YOU. However, for those of you that want a bit more clarification, here's a few things that we think are great:
Latex (I mean if this isn't obvious from the photos then I don't know what is!)
Leather (we're talking heavy leather here, we aren't so keen on wetlook. And whilst that amazing designer leather dress you have is HOT, if you could wear it out to a regular club and not get any weird looks, it probably isn't for us!)
Drag
Club Kid (if you don't know what this means, we suggest you google, paying particular attention to Leigh Bowery. Hopefully you'll be simultaneously mind blown and inspired. Sidenote – if you happen upon Party Monster in your searches, please take it as a cautionary tale, not an instructional manual!)
Avant Garde
Full (genuine) Uniform – military, school uniform/head teacher's gown, medical (although like TLC we don't want no scrubs…unless this really, genuinely is your thing – and even then we ask you make sure it's fully kitted out with all the medical accoutrements)
OTT Theatrical – think circus ringmaster, burlesque/vintage underwear, historically inspired looks, corsetry etc.
Crossdressing We do still ask that this is more of a fetish look, rather than daywear though
When you spend time planning and customising or making an outfit….or better still matching outfits/accessories with your friends or partner/s.  SERIOUSLY. I cannot applaud this kind of effort enough. Even if the finish isn't quite as good as buying it from a designer, it honestly makes me so happy to know that you've put so much time and thought into your look! This is how legends are born! (Maybe don't quote me on that last part. I will, at least, think you're a legend though 😉 )
Anything with a unique or creative slant on regular fetish wear  A couple of my personal favourites were an older gentleman that turned up in an expertly knitted harness and jockstrap, and a lady that made pasties and a strap-on cock out of broccoli (a brocockoli, if you will)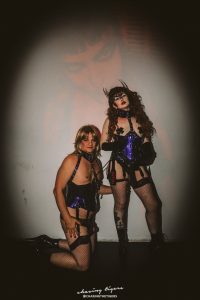 We wouldn't be seen dead at the club in… (yes you've been very naughty, and yes… you're being sent home without a refund)
Jeans/denim – This includes black jeans, and (my personal pet peeve) coated denim. The amount of people I've had try to point blank insist to me that their coated denim jeans are leather/PVC is unreal! What most people don't know is that I have special x-ray vision that allows me to see the fabric composition on clothing labels, and I know it says 97% cotton, 3% elastane (but now you know, so you won't be making that mistake will you?).
Sportswear We appreciate this is a genuine fetish, but if you want to explore this at TG it's going to have to be something a bit more creative than your gym shorts and stinky trainers – latex and leather versions of your favourite sportswear look are always welcome, of course! And if stinky trainers are your thing, then the rest of the outfit had better be damn good!
Regular Partywear If you can wear it to a regular club, party, restaurant etc.; you can't wear it here!
Regular Cotton Shirts / T-shirts /Regular Fabric Trousers…any kind of streetwear If this needs an explanation, you need to go back to the start of the article, read it again and PAY ATTENTION this time!
Cotton underwear They might be your very best, new boxers…you might look SEXY AS FUCK in them, but picture this… 
You're on a regular night out… you pull an absolute STUNNER and take them back to yours. You passionately undress each other, and before you know it you're down to your underwear. When they see it are they shocked? Intrigued? Excited because they didn't think you'd be into THAT, and you've found a kindred spirit? If the answer is none of these, it isn't right for TG. Leave it at home!
Fancy Dress Because nothing says you're really into medical play like a tacky £10 Naughty Nurse outfit from Ebay*. Seriously though, if you can happily wear it to a Halloween party (or any regular fancy dress party for that matter), then it isn't for us.
Leggings (including wet look leggings) Unfortunately too many people kept turning up in just wet look leggings and not much else, as a minimal effort outfit. So we just can't allow them at all anymore!
*As a caveat, if you're going to customise that into something incredible and unique, then bring it on. Otherwise it's a no!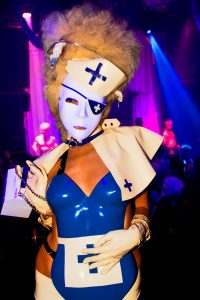 Does the slipper fit? (What should I wear on my feet?!)
Obviously the more outlandish the footwear the better. However, we do have dancefloors (with some really quite awesome DJs), and we understand some of you might want to use them to dance. We also know that ridiculous footwear isn't possible for everyone, soooo….
If you're looking to wear more comfortable footwear, I normally recommend some army or Dr Martin style boots (for all genders). If you've never worn the latter, you'll need to give them some heavy wearing in before donning them for a full night out (or some people reckon a good bash with a hammer will do it) – after which they'll be the most comfortable and long wearing boots you've ever owned. Alternatively, if the rest of your outfit is incredible, a pair of plain black trainers (or a colour that will go with your outfit) are fine.
Your old tatty trainers you kept for cleaning the drains in, flip flops, muddy walking boots, beach sandals and old converse are a definite NO.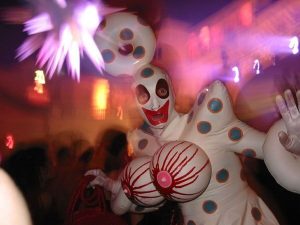 Things not to do/say (yes these are all things that have actually happened)
"I put loads of effort into my outfit, why can't I wear leggings" It isn't you. See "leggings" in the above section. Unfortunately, if we let you in wearing them, we have to let Mr wet-look-leggings-and-nothing-else in too. 
"I'm wellllllll fit though, why can't I just wear a pair of tiny pants?" Sorry, we don't allow you to subtract the amount of hours you've spent in the gym off the amount of time you spend on your outfit. We welcome all body types at the club, so having a specific body type doesn't give you a pass to put less effort into your look.
"But I spent £2k on this suit, why can't I wear it into the club" Whether you got it second hand from a charity shop, or spent thousands on designer, a suit is still a suit. You can wear it anywhere, so it's not for us. 
"But I wouldn't wear this anywhere else!" But you could, if you wanted to. Just because you wouldn't personally wear it to a regular club, restaurant, bar etc. etc. etc., it doesn't mean it's right for us.
"Can I just be naked, and that's my outfit?!" Remember when I said at the start of the article that if you don't like dressing up, we aren't for you?! We aren't averse to nudity, but no matter how amazing you look in your birthday suit, an outfit it is not.**
** To clarify, an awesome creative bodypaint look absolutely does count as an outfit.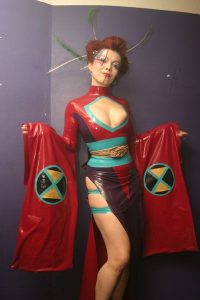 EUREKA! I have the answer! I know what I want to wear!!! But where do I find such fantastical garms?!
Well first off, did you know that we have our own amazing latex brand? *wink wink* www.torturegardenlatex.com.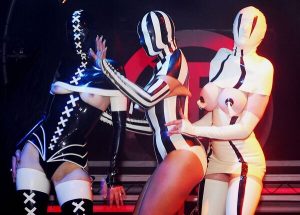 Once things return to normal, we will be back up and running our sister event Le Boutique Bazaar. Run in partnership with Wasted Chic, we curate a number of the most standout fetish and underground fashion brands to give punters a chance to try on and shop for outfits for the club (and anywhere else you might want to wear them). https://www.leboutiquebazaar.net/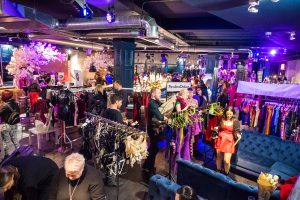 Also, this is a chance for me to plug my own brand, Riot Pony (although I'm not currently taking orders). Specialising in corsetry, and uh, pony wear – follow me at @teamriotpony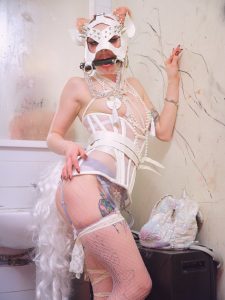 Another fantastic member of the Torture Garden family is Kaori's Latex Dreams – Find her at https://www.kaorislatexdreams.com/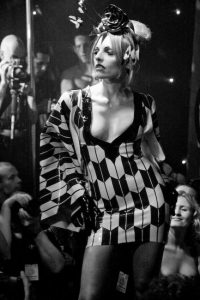 Aaaaaand some of my personal favourite brands:
Rose Noir Designs
Hysteria Machine
Mico Couture Latex
Libidex
Am Statik Latex
Dayne Henderson
Broke Boutique
Carapace
Dead Lotus Couture Latex
Jivomir Domoustchiev
FAB Fetish Boutique (Camden Market)
Aimless Gallery
Other than that, I really recommend spending some time perusing Google and Etsy, and that you give yourself PLENTY OF TIME to order things. Many fetish scene designers are small companies and independent makers, so orders can take a few weeks (but it's totally worth the wait!)
And that's all for now – if you have questions, you know where to find me! 😛
Yasmin TG
Yasmin has been the assistant manager at TG HQ for just over 3 years, and can normally be found checking your fabulous attire on the door on club nights. After studying fashion at uni in Scotland, she set up her own corsetry business, and has even worked in theatre costume for a time. Basically fancy costumes and dressing up in ridiculous outfits are her life. You can follow her on Instagram at @gutterunicorn