by @glamourtits
One of the things I get asked a lot as a 'fetish fashion expert' is where to start with outfit planning when you first start attending fetish events. I've compiled some of my top tips and resources  here to help you navigate the subject and have fun exploring your kinky style. 
1. High Street Sex Shops have come on a long way and you can now get decent, affordable pieces from shops like Bondara, Ann Summers and even Amazon. Even sometimes online fast fashion stores like Pretty Little Thing and ASOS have cute lingerie, pvc or mesh dresses etc too. Men / masc people can also do ok from these places –  with basics like faux leather trousers and mesh tops. Whilst you won't find a full incredible outfit in any of these places, they're good for fetish party basics to have and build on later. 
 2. It's important to plan your outfits in advance, because unfortunately the truth of buying lower-priced off-the-peg items is that they might not be quite as expected when they arrive (and custom pieces will normally take in the range of 6-8 weeks). They might not look like the picture, or the sizing might be off- so allow time to return & re-buy, and always order a few backups with the aim to return the ones that don't work.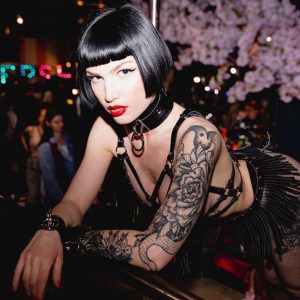 3. Buyer beware cheap latex- good latex is expensive for a reason! Cheap latex tears, rolls down, is thin and unflattering and generally a waste of money. You can get latex that is mass produced but decent quality from a supplier like Honour, or our website Charmskool Shop has a lot of 'entry level' pieces for all genders at affordable prices, that will be made to your exact measurements (and also support independent brands!) 
4. On the subject of latex, I also want to bust another myth here- Latex is amazing on curvier people. Good quality latex is like shapewear and will lift and smooth your figure and make you feel amazing.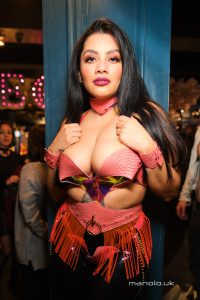 5. On that note, it's really important to consider comfort when choosing an outfit. I know for a lot of people the dream is a strappy lingerie set or a full latex catsuit or leggings- but remember fetish clubs are dark, sweaty and full of people brushing up against you. Also, think about what your night looks like- do you want to be seen looking glam, get loads of photos etc, or do you want to be down and dirty in the dungeon?  For example, I wear my decadent latex outfits with hats, wigs, feather boas etc when I'm socializing and want to make an impression- but if I want to play I go more low key, easy-access lingerie, more comfortable fabrics (that won't get ruined by lube!), stuff I can move around and get messy in more easily. 
6. Amazing accessories can elevate any look, and also be handy for play! Harnesses, collars, leads and cuffs are always popular and will not only finish your look but also be fun in the dungeon. (We have a huge selection on Charmskool Shop for you to check out, across a variety of price points and styles)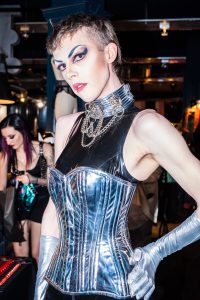 7. If you are able to, it's always great to attend your local fetish market. We have one 4 times a year in London called Le Boutique Bazaar, which is not only an incredibly social event for the kinky community, it affords you the opportunity to see items in the flesh and try them on, as well as speak to the designers (who are all super friendly) and have them take your measurements for custom items. A lot of people prefer to shop like this, as it feels a bit 'safer' than shopping online, and you know exactly what you are buying, with advice from a professional seller. 
Otherwise, on Charmskool Shop you can chat directly to the designers through our 'ask a question' button to make sure you have all your answers and everything is sorted before you purchase. We also offer personal shopping & styling advice for those wanting something very special- feel free to drop us a line and discuss on charmskoolshop@gmail.com
Alexandra Houston is the co-founder of long running fetish shopping event Le Boutique Bazaar, alongside Charlotte TG. Having worked with hundreds of niche brands over the years both at LBB and as a fashion stylist & ecomm marketplace specialist at big companies like Depop and ASOS, she recently launched Charmskool, a one stop fetish fashion & lifestyle marketplace.