By Ms_Maquette
Last week we covered building an outfit, choosing a look, and taking measurements. This week we'll be talking about how to shop for clothes, makeup and wigs, putting your outfit together and some handy hints for your debut night out at TG.
If you missed Part 1, you can read it here
Step 5: Off to the shops – well sort of… 
I am a big guy and it has always been possible for me to shop in high street shops for girl cloths. I have also noticed that over the past decade the average size of girls seems to have gone up, with younger generations being taller and broader than 20 years ago. This is good stuff but, remember, the aim is not to look like a normal woman going about her business, rather we are looking at add a fetish edge to our look. 
Even in this digital age there are still a number of high street, brick and mortar shops that exist. Liberation in Covent Garden (London), Honor in Waterloo (London), FAB Fetish Boutique in Camden (London) and Cathouse Clothing (the Grim North) – all offer showrooms with great staff to have a nose about it. If you are worried about being outed in any of these locations as a cross dresser don't be – cross-dressing is about as common in the fetish scene as a bubble in a Jacuzzi, and your money spends just the same as everyone else. One area that I am a little critical of towards brick and mortar shops is that they do tend to be a little "latex heavy" in their stock. Latex is, rightfully so, a mainstay of the fetish fashion world; but I would advise caution towards the material for the first time out cross-dressing outfit. Partly this is due to expense, but mostly due to the fact that it can be challenging to get the right look unless you know how female garments hang on you. 
Turning to the online options, the potential to source a great look really does explode with many specific online retailers catering to the cross dressing fetish look that would be right at home at any TG party. Almost all of these retailers are "tailored off the peg," that is they provide a set range but tailor the dress to your measurements. This is where the measurement you got done earlier really come into their own. Also this is where the dominant or submissive division comes into play with it being far easier to find a submissive look than a dominant one. BBT Sissy Closet and Leanne's Pretty Dresses are two of the most well knows makers out there, but there are many others that will run you up a garment. In this area feel free to branch out – you should not assume that just because it's not a TV/CD or transgender specific clothing brand that they will not deal with you. Lady Sloth, a Polish based Lolita brand is a great example of this, and they make dresses for boys and girls and I have used them in the past.
Then we get to the shoes…This is often by far the most tricky area for novice cross dressers. Converting male to female shoe sizes is easy enough, but getting something that will not kill your feat (and your night) is the hard part. Every cross dresser loves a teetering pair of six inch stiletto heals, but walking in these shoes takes practice (and the stairs and dance floors of TG are not the place to learn). 
Equally no one looks good in flats. The compromise is wedge shoes/ boots, as these combine the look of a heal with the security of a flat shoes. There are many options out there for this type of shoe, with the brand Demonia being an obvious choice. This type of shoe will naturally slant the look towards the goth/punk look, which maybe is not your cup of tea. However, I have seen many a crossdresser's first night at TG come to a premature end due to unworkable heals.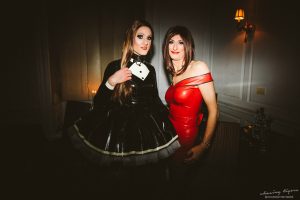 Step 6: Makeup and wigs… 
Things are getting serious now!
For makeup there are really two options, these being "do it yourself" (DIY) or "pay a professional." DIY is something we should all aim for, but on point makeup takes time, practice and specialist cosmetics. If it's your first time out, why not let someone else do the heavy lifting of makeup application? There are dressing services in all the major cities that TG runs parties in that can achieve stunning looks. Boys Will Be Girls in London and Trans Life in Brighton are two of my favourites for a pre-TG makeover.
Which leads us onto wigs! These divide into two main categories – expensive lace front wigs, or cheaper standard wigs. When deciding between the two consider the overall look…the sophisticated dominant look usually requires a neatly fitted lace front wig to complete the look (again Google "Violet Chachki" to see her executing this look again and again). In contrast, the submissive look is a bit more forgiving on the wig, with slightly trashier (and by default cheaper) hair being almost part of the look. A colourful pallet can be your friend here, opening the door to vibrant wigs that are so brightly coloured no one notices that they are cheep synthetic wigs.  
Step 7: Putting it all together…
So if you have done all the above you are a long…long…long way from the early days of squeezing into your mum's/sister's/girlfriend's clothes – you have a look that is killer, and something that really reflects another side of you. Thing is that it takes time to create this look – for me it takes about 3 hours give or take to get ready (so unlike your mum's/sister's/girlfriend's cloths you cant really throw it on in the toilet at the venue and expect to look good). That means you are probably going to have to get ready at home or in your hotel, and then get yourself to TG. Which brings us to the final step.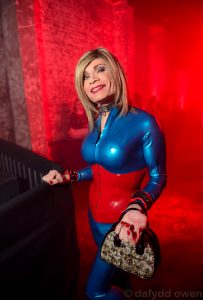 Step 8: Getting to and from the venue in your outfit… 
Even if you are staying in a trans friendly venue like Trans Life in Brighton, you are eventually going to have to face people during your TG night who are not in the fetish seen. This usually takes the form of the taxi driver that takes you from where you are staying to the TG venue. This is where the fantasy needs to take a back seat to your own personal safety, and it's in this area that smart phones and services like Uber (love it or hate it ) and their door-to-door GPS tracked feature really become a life saver. Also consider the journey to and from TG – 
To TG: TG usually kicks off around 9pm, just as the night is getting started, and laddish behavior is contained. At this time I am happy to walk through a Travel Lodge lobby, confident that no matter how "out there" I look I will be fine.
From TG: TG usually finishes at its earliest at 2am and often later circa 6am. By this time those that are out have had a skin full, and are more "on the bounce" than they where on your trip to TG. Just be wary of this – don't accept being dropped of "just around the corner" etc – again Uber and their direct driver specific feedback mechanism give you more control over the journey than a standard black cab.   
Step 9: Finally there!
Phew! After all that you are finally in the line at TG, confident that you will breeze past the dress code check with your awesome outfit, and hoping that you will be good enough to make the TG Instagram feed (like me :0)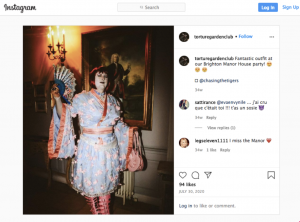 Some final summary points to keep in mind, and help get you started:
5 X Do's 
Find a friendly seamstress and cobbler – dresses can be tweaked and shoes stretched. Most trades persons will be happy to take your money regardless of being a cross dresser or not. These services can make the difference between a wearable garment, and another item gathering dust in the suitcase under the stairs. Carmen's Tailoring Studio in London near Leicester Square has always been my 'go to' seamstress when I am in the City.

Check out drag queens for inspiration

– there are obvious crossovers between drag and fetish culture, and you should feel free to mine various drag resources for inspiration. Obviously queens like Violet Chachki display clear references to fetish, but she is not the only reference point and you should explore. 

Turn up to TG on your own

– finding friends into cross dressing outside of a physical space such as TG can be hard. However, once inside you will quickly meet other crossdressers, and those that are into us. I have made some good friends on the scene from the first night out, so there is no fear of no one talking to you all night. 

Adopt a capsule approach to building an outfit

– a capsule wardrobe is an approach where you have a handful of really nice (read expensive) pieces, combined with lots of cheaper accessories. This allows you to maximise looks to spend on a wardrobe. Which pieces you choose to prioritise is up to you, but I always have one really nice piece within an outfit that carriers the rest of the outfit.

Shop on the high street for accessories –

crossdressing can get expensive quickly! What keeps the price down is buying basic stuff such as tights, makeup and the like on the high street, as opposed to specialist trans suppliers (who typically add a mark up). Online market sites are you friend here.    
5 X Don't
Assume 'civilians' are into your fetish

– taxi drivers, seamstresses, cobblers or that person you walked past in the lobby are not automatically into your fetish interests. Just because someone is happy to tailor your maid dress, does not mean that they want to know what you want to do in it. Save the filth for inside TG!

Go nuts on the booze when in TG

– wearing a full outfit like the ones I am wearing in the pictures is physically challenging over an 8/9 hour period. Make sure you look after yourself during the day of the event, and with water and light snacks (little sweets etc) at the event. Bottom line – save the hard drinking for the football game with the lads on Sunday.

Go nuts in the dance floor – the above outfits with their multiple layers are hot even in the winter months, and being bathed in your own sweat is not a good look on anyone. For me dancing is a short lived experience because of this. A large handheld fan is an indispensable, and highly practical addition to any outfit. Daft Boys are my go to brand at the moment.. 

Feel that you will be forced into a role you don't want within TG due to your outfit –

just because you are dressed as a French Maid, does not mean that you have to be submissive. You can be as dominant as you want, regardless of your outfit. 

Accept people automatically touching you

– hands can wander, and the urge to "fluff" your petticoats etc can be overwhelming for some. You don't have to accept this, a polite "thanks but no" should shut this down – if not then TG dungeon mods are your next port of call. 
To conclude… 
Going out cross dressed is a huge thing, and yes you could do TG in boy mode (again). However, you only live once and it is worth the effort due to the special nature of TG. With this article I have tied to lower the barrier to entry to achieving this, but ultimately M2F cross dressing does require more effort than a more standard little black latex dress look for girls or military look for guys.
Good luck on your journey – and we hope to see you at a TG soon!
Ms_Maquette is a Torture Garden regular and fashionista on UK fetish scene. A life long crossdresser Ms_Maquette draws her inspiration from sissy, Japanese Lolita and drag fashion to create looks that she hopes shock and amaze. When not pretending to be a glamorous starlet Ms_Maquette inhabits a typical high power boy role in the City that she uses to fund her ever expanding wardrobe. Her Fetlife profile can be found at the below address and she welcomes all friendly correspondence. 
https://fetlife.com/users/1406743